Projection mapping software
A wide variety of software is available if you want to start with projection mapping. You may have preferences for the type of software you are comfortable working with. Before we look at a few examples, it is useful to understand what's on offer.
At the far end of the professional spectrum are media servers, such as Pandoras Box or Green Hippo. This are required for live events and large-scale augmented and mixed reality productions, but not necessary when starting out, so they will not be covered here. Mid-range projection mapping software may be a better entry point.
The software you find here could be categorised into 'builders', 'editors' and 'sequencers'. A 'builder' would be a programming environment that comes with many small blocks of functionality that can be combined into larger units (e.g. Touch Designer). In essence, you create your own software programme plus all of its functionality. This is super-flexible and creative, but might involve a learning curve.
'Editors' come from the area of linear video production and animation. They offer layering of video content, some visual effects, masking and blending. Useful if you don't plan on live mixing your visual content in front of an audience or go the 3D route.
A 'sequencer' is a ready made application, purpose-built for live VJ and projection mapping performances. You load in your audiovisual content, then start mapping and mixing (e.g. Resolume Arena). You rely on the functionality and effects provided, which varies according to the license fee.
At the lower end of the projection mapping spectrum are free or low-cost open source tools. They work fine on a basic functional level and will allow you to prove a concept. However you may find that what you save on license fee you pay for in time and effort and may outgrow these programmes soon. Longer-term, you may need to go mid-range, so let's start with some examples here:
We've tested Millumin 3 for a small indoor showcase in 2020. It has been very easy to learn and intuitive to use. If projection object and audio video materials are prepared in advance, you can very quickly map and put a show together. Overall Millumin 3 feels more like a sequencer app than a programming environment. There is a 30 day free trial. 
Pros
Powerful
Extensive functionality
Mac & PC
Cons
Full version expensive
Resolume has its roots in live mixing and live performance. Resolume Avenue is the original VJ application, Resolume Arena the one for larger stage displays including projection mapping. Arena is more towards the professional end of the software spectrum, for example you can set up displays for several projectors, 360 wrapping, combine projectors and LED display boards on a stage. Its DXV codec means you can work on higher resolutions and frame-rates with lower CPU and RAM usage. Layering and compositing of clips is easy and intuitive. Arena is free for personal use and learning, but displays a visual and audio water mark.
Pros
Powerful
Extensive functionality
Mac & PC
Cons
Can be a bit of a learning curve, as it is a visual programming environment.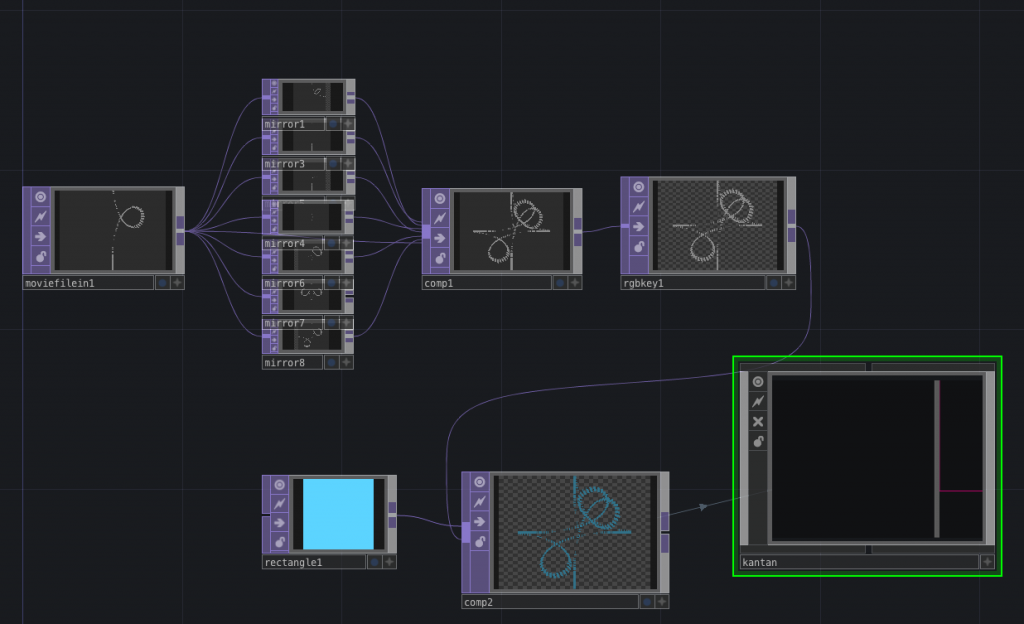 Touch Designer is a fantastic solution, with vast possibilities.  It allows for creative image manipulation (compositing, looping, rotating etc), on the fly, not just playback. It interfaces with VR and many other media devices. However, if you have not had much experience with visual programming languages, and new to combining boxes and arrows, it may take some getting used to. The personal version is free for non-commercial projects.
Working on a tight budget
When working on a budget, you have to keep in mind your bottlenecks: your CPU / graphics card restriction, software license fees as well as a potentially lower resolution projector at the end.
Since many types of software are available for projection mapping, you may be drawn towards free, open source mapping software, but scalability of your work may soon become an issue. It might also take considerably more time and effort to get a show together and you may experience software crashes if your computer has a low spec.
To improve the quality of your work and reduce the CPU load for the mapping software, you may decide to treat your content before importing it, and find yourself exploring video editing software (e.g. Adobe After Effects). Your bottleneck may shift but not necessarily resolve itself, as rendering may take its time.
Professional mid-range projection mapping software – free for a trial period or for personal use – may appeal due to its in-built features or expandability. However, some features may be restricted or a watermark may be displayed until you pay.
Further mapping software ideas
Adobe After Effects can be used for projection mapping, especially for linear production projects. After Effects allows you to map out projection areas (using the pen tool to create masks), fill these with content by blending them with video layers. 
Painting with Light by Alex May is a low-cost software that offers some interesting creative options, such as using 'brushes' to painting static and moving images onto objects. 
VPT8 builds on the visual programming environment Max/msp, and is completely free for Mac and PC. It works fine, but the interface may take a bit getting used to. Interfacing with other devices may be limited.  A quickstart guide is provided. The last software version was released in 2018.